When it comes to purchasing a motorcycle, the experience can be both exciting and daunting.
For many of us, it's not just about finding the perfect ride; it's about discovering it at the best possible price.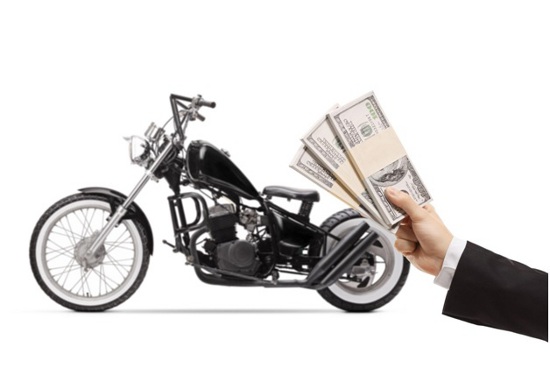 If you are eager to know how to save money on your motorcycle purchase, then this blog post is for you! Read on to grasp how understanding your motorcycle needs and setting a budget can pave the way to your perfect ride.
Understanding Your Motorcycle Needs
Before making a decision and shelling out your hard-earned cash, it's essential to understand a handful of key points. Knowing your purpose for buying a motorcycle and setting a budget can put you in control, ensuring you prioritize the right aspects for a smart purchase.
Defining Your Purpose for Buying a Motorcycle
Even though this might seem like an obvious step, trust me, it's critical. Spend some time reflecting on what you want your motorcycle for – will it be for daily commuting, weekend joyrides, bike rallies, or long hauls?
By focusing on the features that align with your priorities, you can avoid overspending on bells and whistles you don't truly need.
Some questions to consider:
Do you need ample storage for commutes, or is speed and performance your main concern?
Is a comfortable riding posture vital for long rides?
Do you prefer a specific motorcycle brand?
Are you a fan of classic or modern design?
Setting Your Budget
To save money while buying a motorcycle, it's crucial to create a realistic budget, considering not only the motorcycle's upfront cost but also potential ongoing expenses. Here's a breakdown of the costs you need to ponder:
Upfront cost: Start by determining the amount you are willing to spend on your motorcycle (this may include loans and financing options). Remember that it's not necessary to buy a brand-new motorcycle; sometimes, a well-maintained used motorcycle with low miles can be a fantastic deal.
Insurance: Research and compare motorcycle insurance rates before committing to a purchase. Prices can depend significantly based on factors like the motorcycle's make, age, and riding history. Plan this cost into your budget.
Maintenance: A motorcycle often requires more regular maintenance than a car. Factor in routine maintenance costs such as oil changes, tire replacements, and brake pads.
Gear and accessories: Prioritize safety gear like helmets, jackets, gloves, and boots, as they are non-negotiable. Save money by searching for sales, discounts, and secondhand gear in good condition.
To save money on your purchase, use your budget as a guiding and negotiating tool when discussing with sellers and dealerships. By understanding your motorcycle needs and keeping a well-defined budget in mind, your dream of owning a motorcycle will be a step closer to reality!
Exploring Options: Old Discontinued Models
For those on a tight budget, looking at older, discontinued models can be a viable option. Not only could these bikes save you a considerable sum compared to their brand-new counterparts, they often retain the charm and timeless aesthetics that newer models sometimes overlook.
Advantages of Buying Older Models
There are several advantages to buying older models. Consider the following:
Pricing: Discontinued models are generally less expensive than new ones. Dealerships might offer significant discounts to clear out older stock.
Depreciation: A new motorcycle loses value as soon as you take it off the lot. An older model has already been through most of its depreciation, so it can hold its value better.
Classic Style & Uniqueness: Older models often come with a unique retro design that stands out from the crowd.
Where to Find Such Models
Discontinued or older models can be found in a variety of locations, such as:
Local or Dallas motorcycle dealers who may have unsold stock of old versions
Online platforms dedicated to selling motorcycles
Classified ads in newspapers and on websites
Automobile auctions
Opt for Used Motorcycles
Buying a used motorcycle can be another way to save money. However, before you opt for a secondhand bike, it's vital to understand how to evaluate the bike's condition and know what to check for.
Evaluating the Condition of Used Bikes
Here's what you need to do:
Ask for History Report and Maintenance Records: Knowing the bike's history is crucial. This report will include details like past accidents, service history, and the number of previous owners.
Conduct a Visual Inspection: Check for scratches, dents, and rust and ensure the bike has not been abused.
Test Ride: Don't let a shiny body distract you from the bike's performance. Make sure to take it for a spin to assess its functional condition.
Common Factors to Check in a Used Motorcycle
Ensure to check the following features in a potential purchase:
Tires: Look for any cuts, cracks, or odd bulges.
Chain and Sprocket: Check for any signs of over-worn or damaged links.
Brakes: Ensure the brakes are working efficiently. Look for worn-down brake pads.
Suspension: Check if the bike maintains balance and if the shocks are in good condition.
Fluid Levels: Inspect the bike's oil, coolant, and brake fluid levels. Low levels may indicate a lack of maintenance.
Whether your preference leans towards older models or used bikes, the fact remains: with enough diligence and research, you can find a fantastic motorcycle at a reasonable price.
Bargain Hunting: Comparing Dealership Prices
To make the most out of your motorcycle purchase, make sure to do some bargain hunting. Comparing prices across different dealerships, being informed on average motorcycle prices, and using your negotiation skills can steer you toward significant savings.
Researching Average Motorcycle Prices
Gathering information on average market prices is essential to ensuring that you don't overpay for your motorcycle, especially if you are a first-time buyer. Here's how you can research average prices:
Browse Dealership Websites: Take the time to compare prices of the same make and model on different dealership websites, ensuring that you have a good idea of the price range.
Check Online Sales Platforms: Online websites like CycleTrader and Autotrader offer comprehensive databases of motorcycle listings that are helpful in gauging average prices.
Join Motorcycle Forums: Engaging with online communities can grant access to insider information on what constitutes a reasonable price for specific bike models.
Negotiating with Dealers
Once you have a good understanding of the average price range for the motorcycle you are interested in, you are well-prepared to discuss with dealers and negotiate for a better deal.
Follow these tips to give yourself an edge:
Determine Your Price Target: Before contacting dealers, have a maximum amount in mind you are willing to spend. This will keep negotiations focused and avoid unnecessary price increases.
Inquire About Discounts & Sales: Some dealerships might offer seasonal discounts, promotional sales, or other incentives. These can save you a considerable sum if timed right.
Offer a Competitor's Price: If you find a better deal at another dealership, mention it during negotiations and let the dealer know that you are willing to switch if they won't match or beat the competitor's price.
Be Flexible: Some dealers might not lower the price of the motorcycle but could offer extras, like discounted gear, free service sessions, or an extended warranty. Remember, your goal is to get the best value for your money, so stay open to alternative ways of bargaining.
With a solid grasp of pricing and a willingness to negotiate, you'll find yourself in a strong position to drive down the cost of your motorcycle. Strike a balance between a great deal and the motorcycle of your dreams, and relish the feeling of hitting the open road, knowing you didn't break the bank!
Also read: Best Harley Davidson Motorcycle That You Can Get On a Lease
Embracing E-commerce: Online Motorcycle Shopping
The convenience and variety given by online shopping have spilled into the motorcycle market. A few clicks can reveal numerous websites selling motorcycles, offering a span of options from new to used to vintage and more, sometimes at surprisingly affordable prices.
Tips for Online Motorcycle Shopping
When deciding to purchase a motorcycle online, consider these helpful tips to ensure a successful experience:
Read Reviews: Customer reviews can provide valuable insight into the motorcycle's overall condition and the seller's credibility.
Request Detailed Photos: Ask the seller to provide multiple photos of the motorcycle from all angles. This can help spot potential red flags.
Ask Many Questions: Clear any doubts about the motorcycle's history, mechanical condition, and why it's being sold.
Considering Shipping and Handling Costs
One downside of online motorcycle purchases can be the additional shipping and handling costs. Be sure to inquire about shipping prices and factor them into your total purchase cost.
Ways to Save Money While Buying a Motorcycle
Savings can turn even a minor purchase into a moment of victory. When it comes to buying a motorcycle, securing savings can make the thrill of your new ride even sweeter.
Recap of Money-Saving Tips
Let's recap the money-saving techniques covered:
Understand your specific motorcycle needs
Set a comprehensive budget
Explore older discontinued models
Consider buying used motorcycles
Compare dealership prices
Look for online deals
Additional Tips for the Cost-Conscious Buyer
To extract even more value from your motorcycle purchase, consider these bonus tips:
End of Month/Year Sales: Dealerships often have quotas, and sales reps could be more willing to negotiate as they strive to meet their targets.
Off-Season Buying: Opt for the colder months to get a motorcycle. Demand reduces during these months, leading to lower prices.
Manufacturer Rebates: Some motorcycle manufacturers offer cash rebates on new models. Keep an eye out for these lucrative deals.
Saving money while buying a motorcycle isn't about clipping coupons or settling for less; it's about making strategic decisions and shopping smart. Enjoy your journey toward motorcycle ownership! Happy hunting!