Elderly adults frequently experience issues with their hip joints. Chronic pain, reduced mobility, and a severe deterioration in quality of life can result from arthritis, fractures, and general wear and tear over time. Hip replacement surgery can be a good alternative when less invasive treatments like medicine, physical therapy, and lifestyle changes haven't worked well enough.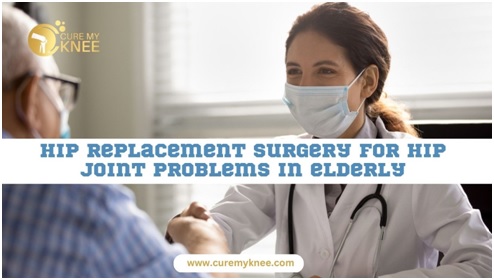 Total hip arthroplasty, another name for hip replacement surgery, is replacing the diseased or injured hip joint with an artificial joint. The technique attempts to reduce discomfort, enhance general function, and restore mobility. With over 300,000 operations carried out each year in the United States alone, it is one of the most popular and successful surgeries.
If you are searching for best in city then find a Hip Replacement surgeon in Delhi who combines skill, experience and patient happiness. One of the best Hip Replacement Surgeons in Delhi is Dr. Dk Dass, Orthopedic surgeon with more than 30 years of experience. He is renowned for his dedication to using state-of-the-art surgical methods and providing personalized patient care.
Indications for Hip Replacement Surgery
If a person has severe hip joint degeneration that limits their everyday activities and quality of life, hip replacement surgery is advised. Indications for hip replacement surgery include, among others:
Osteoarthritis is a degenerative disorder that develops over time as a result of wear and tear. It can cause discomfort, stiffness, and restricted movement in elderly persons and is the most frequent cause of hip joint injury.
Rheumatoid arthritis is an autoimmune condition that results in joint destruction and inflammation. The hip joint may become painful, swollen, or deformed as a result.
Trauma or injury: A hip fracture or other serious hip joint injury can damage the joint, causing long-term discomfort and dysfunction.
Avascular necrosis is a condition that damages the blood supply to the hip joint and results in bone death and joint damage.
Hip dysplasia is a syndrome that results in improper wear and tear on the hip joint, causing joint injury.
Evaluation for Hip Replacement Surgery
The orthopedic surgeon will thoroughly review the patient's medical history, physical examination, and imaging tests before proposing hip replacement surgery. The extent of the joint damage, the patient's level of discomfort and impairment, and their general health will all be evaluated by the surgeon.
The evaluation process may include:
Medical history – The surgeon will go through the patient's medical background, including any prior operations, illnesses, and prescription drugs.
The patient's gait and range of motion will also be examined by the surgeon.
To evaluate the severity of joint injury and choose the most appropriate surgical strategy, imaging examinations such as X-rays, CT scans, and MRI may be requested.
Blood tests – Blood tests may be requested to assess the patient's general health status and check for any underlying illnesses that could make complications more likely.
Surgical Procedure
Hip replacement surgery involves several steps:
Anesthesia – Depending on the surgeon's preference and the patient's general health, the patient will either get general anesthesia or regional anesthesia.
An incision will be made over the hip joint by the surgeon, exposing the injured joint.
Joint removal – The surgeon will remove the diseased joint, together with the bone and cartilage.
Artificial joint implantation: The artificial joint will be inserted into the hip socket and connected to the femur by the surgeon.
Sutures or staples will be used to close the incision.
Recovery
The patient will be observed at the hospital for a few days following the procedure. To treat pain and increase mobility, physical therapy and pain medication will be given. The patient will receive instructions on how to do everyday tasks and how to take care of the incision site.
Following hip replacement surgery, physical therapy and rehabilitation are essential parts of the recovery process. A specialized rehabilitation plan for the patient will be provided, and it will include exercises to increase strength,
You can book an appointment with Cure My Knee for any bone or joint-related problem. You can get a consultation with the best orthopedic surgeon and discuss your problem. After analyzing and diagnosis, the doctor will suggest you treatment methods. Hip replacement is one of the treatment methods for hip pain. After the replacement surgery, the doctor will advise you with certain exercises, dietary modifications, medications and physiotherapy that you must surely follow to recover faster.