When it comes to office wear, there are still some general thumb rules to follow. What you wear projects a lot about your personality and can create a one-time image. While it's a general rule to say: wear what you like. It is necessary to be a little more thoughtful when choosing a watch for the office.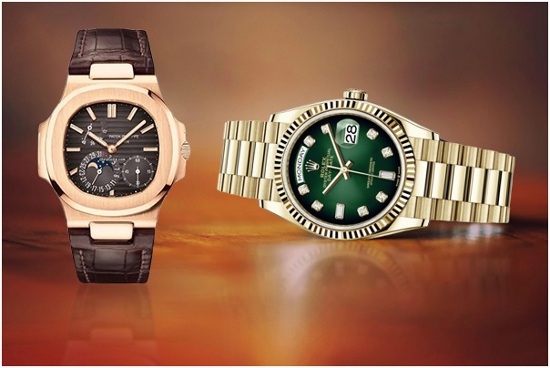 No matter your designation, you must send a strong message about professionalism, and a nice wristwatch could get half the work done. The idea of the perfect office wear watch is different for all. But what remains common is the desire to look confident, smart and approachable.
There are a lot of great watches with plenty of good features circulating in the market. Here, we've outlined the best of them worthy of your time in and out of the office.
5 luxury watches perfect for office wear
1. Rolex Day-Date
If you want to make a solid first impression during a formal event or official business meeting, there's nothing better than the Rolex Day-Date. It is also referred to as the 'President' watch because of the famous President bracelet that the brand created solely for it. Also, not to forget, it is a President-certified Rolex timepiece with President Lyndon B. Johnson, one of the first people to wear it.
The watch features a solid gold body, with the day & date of the week spelt in full on the dial face and is available in various materials. Rest assured to make a great impression in any business meet-up with the Day-Date.
Our Pick: Rolex Day-Date Ref. 128238 in a 36mm 18ct yellow gold case with a champagne dial.
2. Patek Philippe Nautilus
People who wear the Nautilus have strong integrity and do not compromise class with style. The Nautilus is a stunning Patek Philippe creation that you can easily wear to a business meeting and a party after work. Its effortless elegance and uncompromised functionality featuring dual time zones and perpetual calendars make it a sought-after sports watch model.
You could pair the Nautilus opposite anything, and the classic all-steel housing makes it extremely robust. If steel is what you actually want for a more subtle appearance, look no further than the Patek Philippe Nautilus.
Our Pick: Patek Philippe Nautilus Ref. 5712R-001 in a 40mm rose gold body with a black-brown dial.
3. Cartier Santos
Cartier creates the most easily recognisable watches, and Santos is its biggest example. Louis Cartier conceived the watch to help aviators tell time during the flight, and it has become one of the iconic watch models with its unconventional look. The Santo's unique rectangular or square case makes it stand out in the crowd, and the classic square dial with Roman numerals and sword-shaped hand adds to its charm.
Today, the Cartier Santos is one of the best wristwatches in the world, highly desired by collectors. It is a great conversation piece and will place you as an authority in your next business meeting.
Our Pick: Cartier Santos Ref. WSSA0018 in a 39.8mm steel case with a silver opaline dial.
4. Audemars Piguet Royal Oak
Watches with unconventional shapes attract huge popularity in the watch world. The Audemars Piguet Royal Oak watches are highly desirable amongst enthusiasts for their iconic octagonal bezels. The unique porthole-like appearance of the bezel captivates the attention at once, making you the highlight of every official discussion. Thanks to the steel case, you can wear it anytime, anywhere, without going over the board.
The Royal Oak has been AP's gem timepiece for over 30 years, and while many might claim it to be a dress watch, you can match it with your regular outfits to draw your colleague's attention.
Our Pick: Audemars Piguet Royal Oak 'Jumbo' Ref. 16202 in a 39mm steel case with a blue dial.
5. Tudor Royal
The Tudor Royal collection encloses top dress watch pieces that will surely cater to every office goer's taste. Tudor has showcased exceptional craftsmanship and style with the Royal catalogue, where the watches stick to your mind for the crenelated bezel and integrated bracelet. This lends a distinct vintage vibe to the timepieces.
You can avail of the watches in a wide range of dial options, each offering quite a varied character. There are black, champagne, silver, and blue dial options with or without diamonds for those who don't shy away from a little dazzle.
Our Pick: Tudor Royal Ref. 28600 in a 41mm steel case with a blue Roman dial.
Final Note
From Rolex to Patek Philippe, Cartier and Audemars Piguet, our list compiles the best luxury watch brands that will command instant recognition in your workplace. Moreover, considering the elevated popularity of the watches in the market lately, there's no better time to invest in one. The watches are worth putting your money into as you can sell your watch at a good price in the future.
In the business world, your attire speaks a thousand words. So, pick a watch that matches your personality and also underscores your sense of business.