Kitchens are the focal point of your home. A kitchen and a dining room are the places where lively discussions happen. However, the kitchen room design have changed over the period. Modern architecture has given us the ultimate luxury of open kitchens, and these designs are the perfect solution to convert your traditional kitchen space into something unique.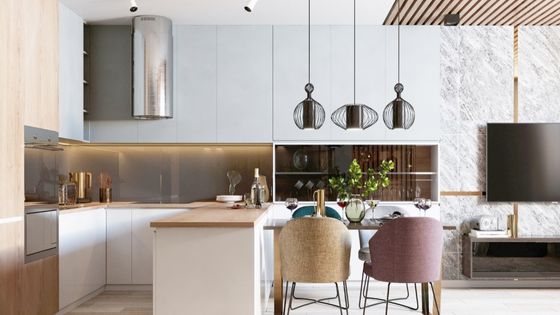 You have the liberty of equipping your kitchen with ample seating, good-looking, efficient gadgets and countertops.
Following are the five open kitchen room design that you can take inspiration from
1. Open kitchen with the living room.
It is one of the most popular designs, and an open kitchen with a living room is in demand nowadays. It makes your abode feel more relaxed and intimate and serves as an extension of the living space. Many designers choose this design as it is easy to build and implement. This design is particularly perfect for families who love entertainment and have friends over all the time.
2. French-inspired open kitchen.
A French-inspired open kitchen is the perfect blend of style and functionality. There is an array of designs for a French open kitchen, and these modern designs range from simple and subtle kitchen room design with minimal interiors to a bold and more elaborately designed kitchen. All the kitchen room design can be customized to fit the client's budget. Leather bar stools, light fixtures, and floral wallpapers give a French twist to your kitchen.
3. A pristine white open kitchen design.
In the world of interior designing, an open kitchen is the type of kitchen without walls that usually separate it from the rest of the house. The open kitchen floor plan is the one that extends into a living room, family room or dining room. Most people love the white colour because the white walls tend to be more visually appealing and more reflective than dark tones. A white wall in a kitchen will make it appear open bigger. You can use neutral white shades such as cream or off-white as they serve as an excellent colour palette for your open kitchen room design concept. White colour can give an airy and breathy space to your kitchen space. You can make use of colour that is a stark contrast to the white colours for the furnishing in your kitchen.
4. One open wall kitchen.
A single wall of floor-to-ceiling cabinetry and appliances works well in the open kitchen room design. A long island house ith additional storage and a sink keeps the work triangle compact and saves a lot of space. You can have island seating, allowing your friends and family to stay close. The best part about a one wall kitchen is that natural light comes into the kitchen.
5. An open kitchen with a countertop.
An open kitchen is the one which hinges on blending with the common spaces and an increased functionality. A granite countertop can be the perfect accessory for one's cooking space and this area can be also a space for meal preparation.