Often, homeowners have to make a difficult decision when they are upgrading their kitchen. No matter you are building a new kitchen or renovating a new one, you have to pay attention to the kitchen cabinets. Choosing the style or type of cabinets that you like is daunting.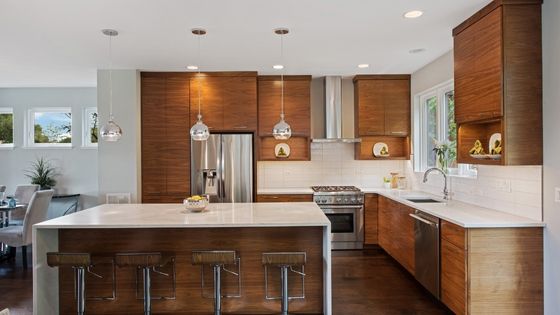 Surely, you don't want to choose the wrong type of cabinet. One of the most popular choices is cherry wood kitchen cabinets. However, often people wonder if it is outdated.
Well, they are not. They are not only durable but always in stock. The prices of cherry wood cabinets hardly change. In case you are still confused, we are going to take a look at the pros and cons of cherry wood cabinets.
Benefits of Choosing Cherry Wood Cabinets
Believe it or not, cherry kitchen cabinets add great value to your home. They are of substantial value and make your kitchen appear aesthetically pleasing. Here are the advantages of using cherry kitchen cabinets.
1. Price
Cherry wood cabinets are primarily listed at a mid-range price in comparison to the other premium wood cabinets available in the market, including maple kitchen cabinets. Cherry wood is much cheaper than ebony and mahogany. So, you will get a return on investment on your cherry wood cabinets.
2. Available
No matter what time of the year it is, you can get cherry wood cabinets. The prices of these cabinets hardly change. This is what makes them more desirable. There is no specific season that can be designated as cherry cabinets.
3. Aesthetically Pleasing
Choosing a cherry wood cabinet in the kitchen works with any kitchen décor and style. No matter it is modern or traditional, opting for cherry wood is a can't miss option. As long as you keep them in good condition, you notice a touch of elegance in the kitchen.
Drawbacks of Choosing Cherry Wood Cabinets
Remember, every decision you make has its benefits and drawbacks. In majority of cases, the goal of the homeowner is to reduce the number of drawbacks that exists with their choices. Here are some of the negative pointers of cherry wood cabinets.
4. Scratch Issues
The kitchen with cherry wood unlike kitchens with maple cabinets is soft and can be scratched easily. Hence, you will have to be careful not to bang into the cabinets accidentally as it might lead to unwanted damage.
5. Inset and Water Concerns
Cherry-wood is largely desirable to termites. But you can take proper measures to keep termites away from the kitchen cabinets.
Another concern when installing a cherry cabinet is water damage. It can warp cherry wood cabinets. So, in case you notice water on the cabinets, make sure you wipe it off without any delay.
Recommendations to Maintain Cherry Wood Cabinets
Cherry wood cabinets are a good choice for your kitchen. But once you have installed them in your kitchen, you have to make sure that you are cleaning and maintaining them. While cleaning them, you cannot simply use any cleaner. Also, you will have to use a soft cloth and mild cleaner for cleaning the wood. If you use an abrasive cleaner, you can damage the finish of the kitchen cabinets.
If you are unable to clean it all by yourself, you can take the help of a professional. Hire a professional who can make clean every nook and corner of the kitchen and make it aesthetically pleasing. Proper cleaning makes sure that you do not have to replace the cabinets anytime soon.
Bottom Line
Installing cherry wood cabinets in your home is an excellent option for a homeowner who wants to update their kitchen aesthetics. But always make sure that you are getting them from a reliable cabinet supplier.